Where stone becomes cemetery
From the Swiss border, we quickly spotted the countless tombstone companies. One of the most common stonemasonry activities in this part of Germany. These are not funeral directors as we know them in France.
CULTURE PIERRE
It was in Freiburg, on the Alsatian border, that we first knocked on the doors of German companies. Here, stonemasonry can be found in the city or in suburban areas. The grinder and the dust have their place in urban life and are visible. Often, a stone sign or a flag planted on the ground marks the name of the establishment. In front of a single-storey house, there is an unfenced garden with rows of gravestones of various shapes and sizes.
The lawn is green and just as well-kept as the showroom, where the history of the company and its catalogues are presented in an extremely well-kept space. Since we arrived in Germany, we've mainly seen this type of organisation in the context of craft businesses. We were made aware that the funeral industry had taken on a major role in the stonemasonry sector. Grabmal" (funeral monuments, gravestones) are an inexhaustible business. So, on our way out of Freiburg, on the advice of an old lady, we found NaturStein Donderer, a firm based in Meßkirch whose stone yard extends over several hectares.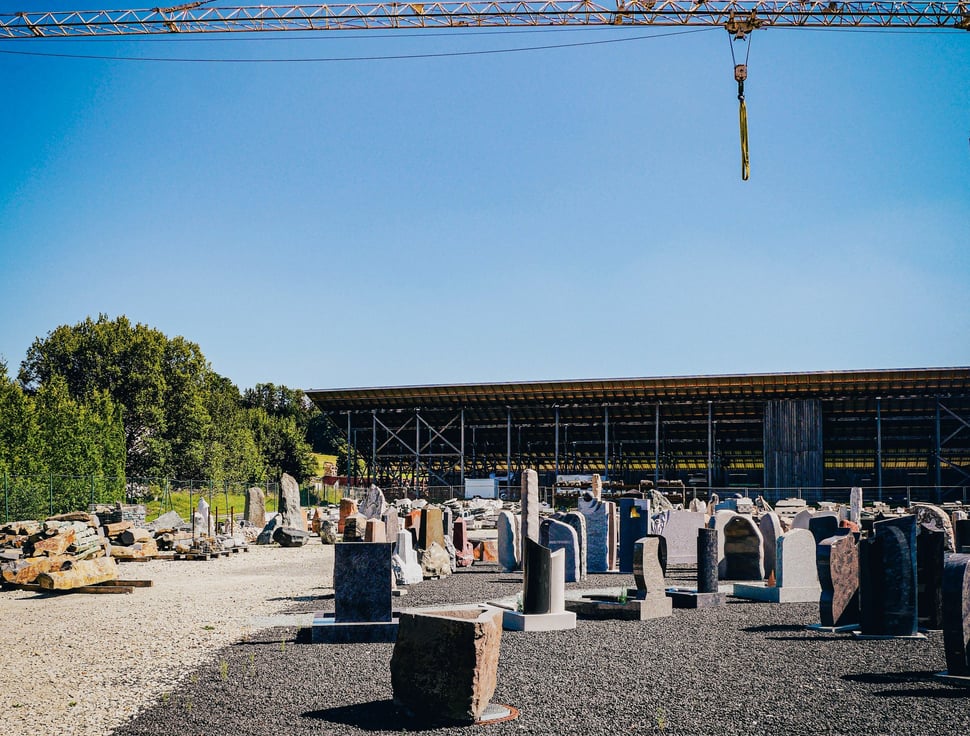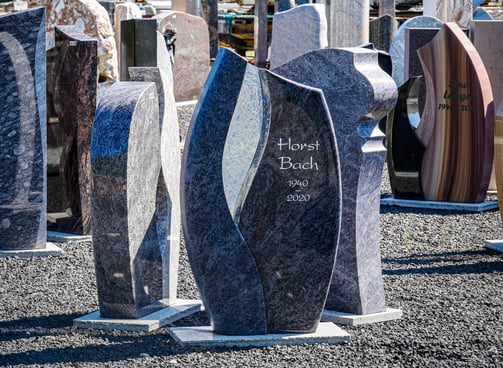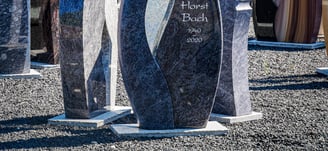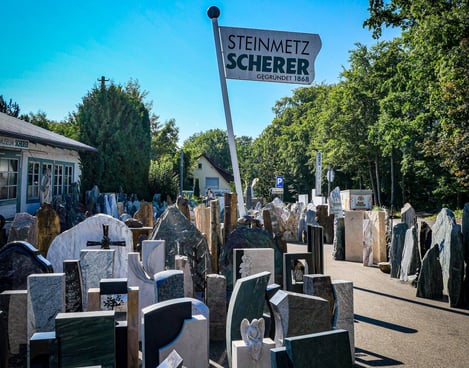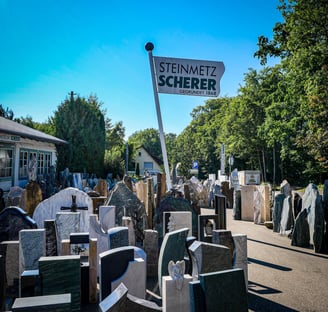 This company is responsible for supplying specialist stonemasons. They will add engraving, carving, details and any other customised requests. Arriving in Ulm, we were able to meet other companies. Steinmetz Scherer, in particular, located on the heights of the town, displays its park of tombstones in front of its glass-enclosed showroom. Romain, a French stonemason, works here, telling us that the Grabmale business is indeed very important in Germany.
Unfortunately, this tends to take over from other activities. The stone becomes a graveyard. He tells us that certain regions, such as Baden-Württembergs or Bavaria, are more conducive to freedom of execution, thanks to less restrictive standards. As a result, work on tombstones is a little more interesting there than in northern Germany, where strict standards standardise all stelae. Today, we're based near Lindau, in a company that allows itself to make just a few tombstones a year, but whose main activity is restoration and private commissions. In fact, there are no tombstones in front of the workshop, and Martin, the manager, tells us that this is not about to happen. For some, accepting this specialisation also means agreeing to give up building in stone. This raises a number of questions about the future of certain skills and know-how, such as stereotomy and the cutting of complex elements.