Sóskút and the stonemasons
Tuesday 21 February, when we put our bags of tools on our shoulders. After an hour bus ride from Budapest, we discover our new job and a new team. The small open-air workshop will become our daily life for three weeks. We learned a bit of Hungary from our colleagues.
JOURNAL DE BORD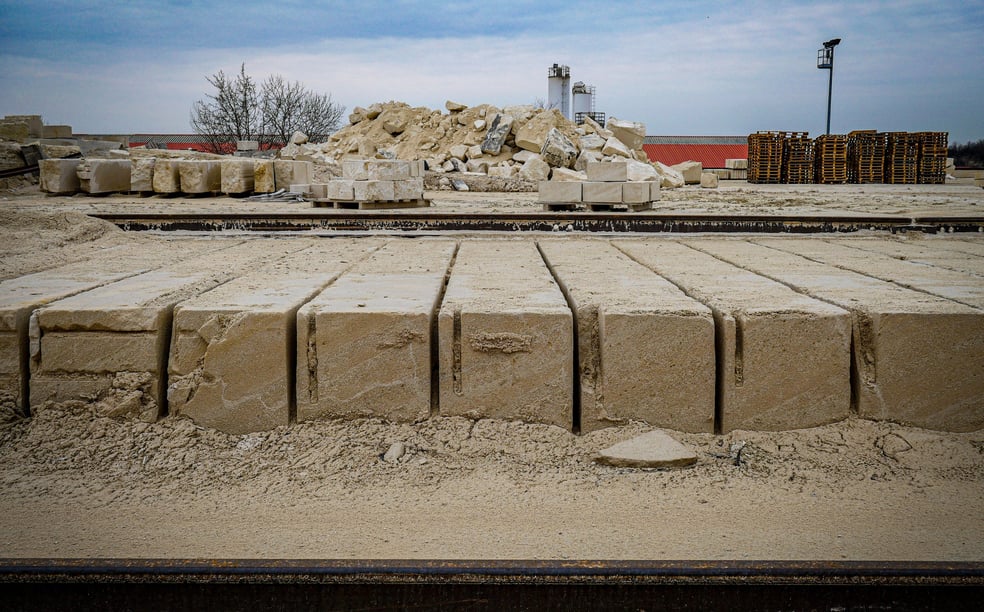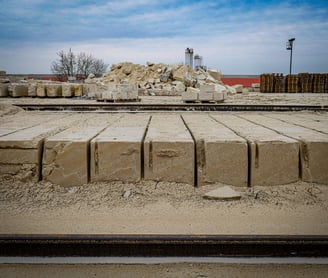 It is 6.30 am this morning in Budapest. Behind the window of the bus, we wonder what this new experience will be like. The landscapes that pass by still carry a Soviet air. That little thing that, when you leave the capital, still sticks to the cities and villages. The bus stops themselves are a reflection of this. Like today, after an hour's journey, when we get out in front of a panorama of hills with leafless orchards. Not a house in sight, only the sign Sóskút Kőbánya (Sóskút Quarry). Bags of tools slung over our shoulders, we walk up the broken asphalt road ahead. This is the big day! The first Hungarian job. Like every time, a mixture of impatience and apprehension overwhelms us. When we arrive this morning, we only know one thing: we have stones to cut for the Ministry of Finance in Budapest.
In the back bungalow, we meet our colleagues, Zoltan, Arpi, Andreas, Geri and Gesa, stony-faced and pirate-like. Crooked hats, white overalls and tools for weapons. Around us, seven wooden huts serve as workplaces. Everything is in the open air, in a white park. In the centre, pieces of neo-Gothic networks, bays and capitals watch over us at work. The atmosphere is simple, beautiful. Between German, English and gestures, we understand each other. In a few days, we take our marks and attack a "potato"² 80 cm wide by 78 cm deep and 48 cm high. It will take the form of a hammerhead.
The quarry is a 10 minute walk from the workshop. It is one of the largest quarry faces we have seen since we left. The place is huge, a big creamy white field where a saw on rails cuts the tile⁴ directly into cinder blocks. Sóskút stone is a clear, soft limestone and its ease of cutting does not require much equipment. That is why all around us, amidst huge blocks and pallets, there are only three or four machine tools on the horizon with only four colleagues as workers. If we step back, we could imagine a sugar cube factory. In front of us, the front that rises like a wall is streaked with lines about fifteen centimetres apart. It is the result of several hundred years of extraction. Because this stone, Zoltan explains, was used to build part of Budapest, including the Parliament from 1885 to 1904. Today, it is mainly extracted to supply the construction needs of the monuments on Buda Hill. Several building sites are planned over a period of fifteen years, including the Ministry of Finance, for which we are working.
We therefore collected our stones brought in a dump truck by our colleagues from the quarry. Because before starting to cut, we have to ask the quarrymen to cut the stones. After an hour or so, we get our "potatoes²" delivered. At the workshop, the colleagues, have lent us some tools to complete our meagre kit. Most of them are similar to the ones we use. We just notice that instead of railroads⁶, they use rasps or carborundum⁷ blocks.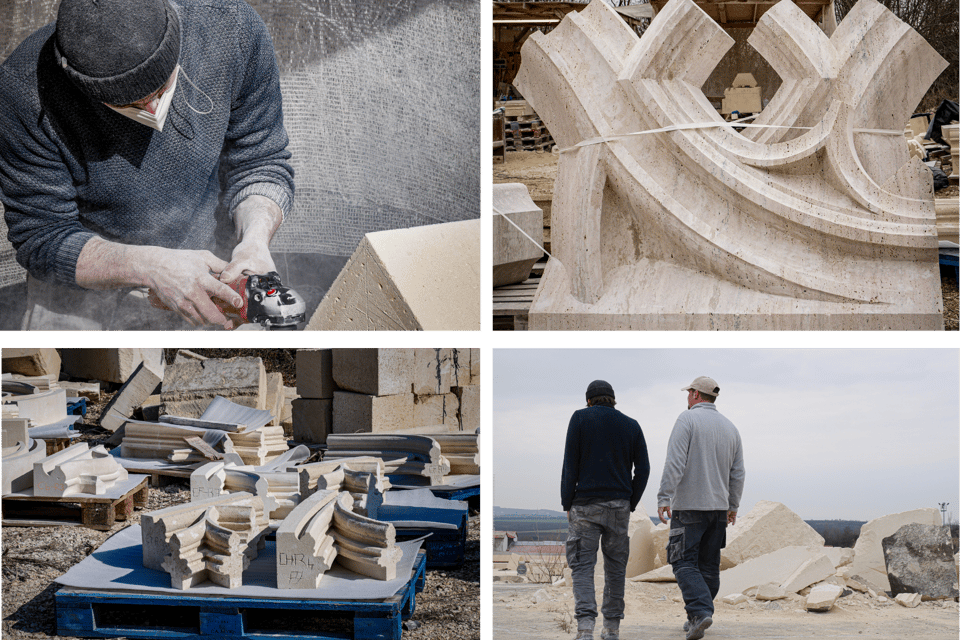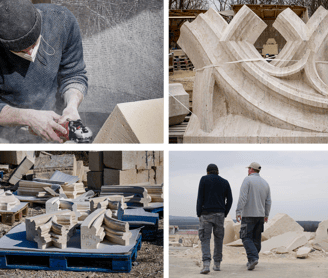 As we go along, we get to know the place and its history. Sóskút is a quarry, but also a village of stonecutters. About fifty years ago, there were many stonemasons in the village, most of whom worked in the quarry. Today, they can be counted on the fingers of one hand. Arpi, our colleague, is one of them. He is the workshop elder: 52 years of experience and stone in his heart. He was born in Sóskút and learned the trade from his father. When we see him cutting, we are amazed by the obvious gesture with which he cuts the stone. One cannot help but think that when a man has been working with a material for more than half a century, he must be at one with it. So we imagine the Sóskút stone with the laughing face of Arpi. A mischievous and benevolent look.
Sóskút was as tender as his stone. Our colleagues who breathe in particles of it every day must have absorbed some of its character traits. So, on the last day, after listening to them share their life of stonework with us, we took our bag of tools on one shoulder, but on the other, we added the bundle offered by Arpi. A stick, with a small package wrapped in cloth at the end: a palinka, a cake and a note. Our stomachs tighten, we have to leave. One more time. Our colleagues gave us some bits of Sóskút and local cultures. We gave them images of travel and stories. The circle is complete. The itinerant has met the sedentary.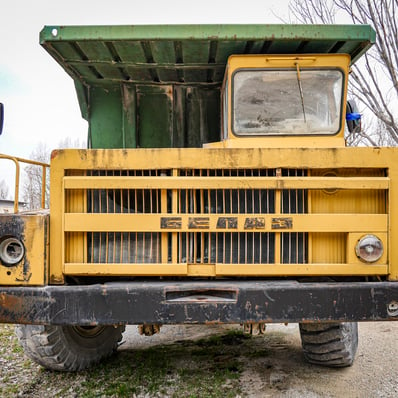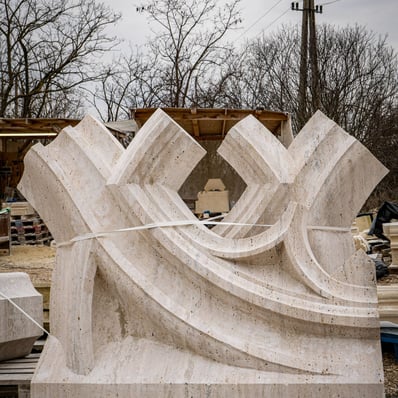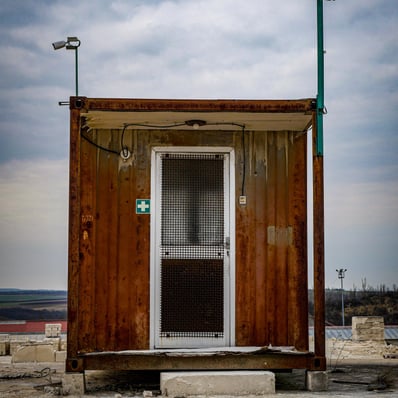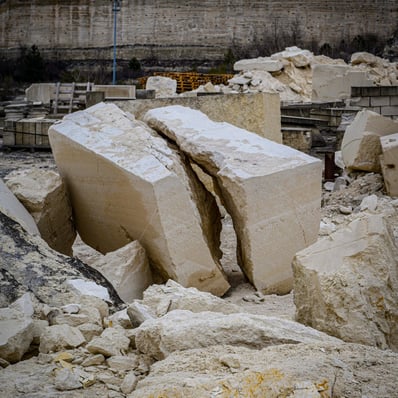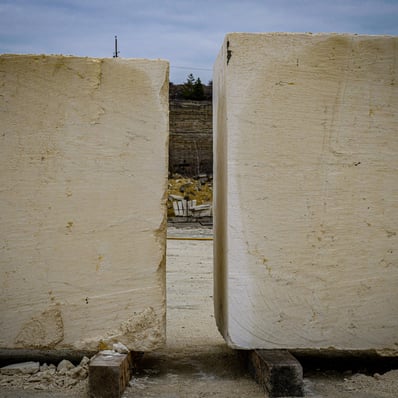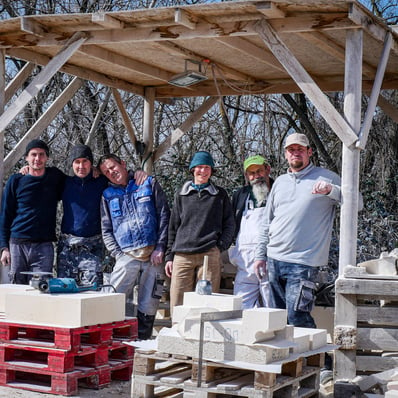 Various views of Sóskút's workshop and quarry
Soskut quarry, cutting of stone blocks
Do you like our articles?
Help us by offering a coffee!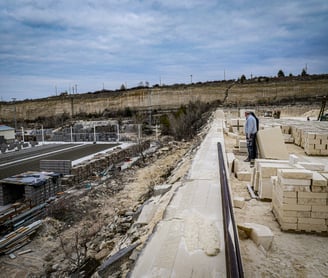 The Soskut's quarry in front of a concret industry.
Discover the other articles ...
La Route de la Pierre newspaper
Discover the other articles ...
La Route de la Pierre newspaper
Do you like our articles?